The dish on `soul food': TV show is still tasty in its fourth season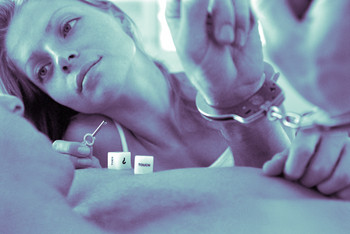 JUST one taste of Soul Food and you're hooked. Fans of the hour-long drama series can't seem to resist the supersexy cast (Nicole Ari Parker, Vanessa Williams, Malinda Williams, Boris Kodjoe, Rockmond Dunbar and Darrin DeWitt Henson), the unpredictable stream of A-list guest stars (Faye Dunaway, Tyra Banks and Star Jones), the parade of hot musical guests (ranging from rapper Ludacris to R&B crooner Musiq), and the spellbinding tales of life, love, tragedy and triumph as witnessed through the eyes of the precocious teenaged narrator Ahmad, portrayed by Aaron Meeks.
Black America's love affair with Soul Food began in 1997, when the hit movie of the same name told the tale of the three Joseph sisters' struggle to keep the family intact after the death of their mother. This movie opened the door to a wave of intelligent, feel-good flicks that portrayed Black families, and Black people in general, in a more realistic, and positive light.
It's easy to grasp what a phenomenon Soul Food is just by recognizing what it is not. Soul Food is a drama, but it's not the gritty, tragic, guns-blazing type of drama where there's never a light at the end of the tunnel for the hopeless characters. There my lighthearted and funny moments in the series, but it's not the run-of-the-mill urban sitcom.
The show is an intelligent series that doesn't sell out the Black family image--it deals with the brazen, the bad and the bitter everyday occurrences, yet, at the same time, allows the characters to reflect that we are a people with morals, and faith, even when we slip up.
Considering TV's historical contempt for Black-oriented dramas, Soul Food should not have made it past its first 13 episodes, says actress Malinda (Bird) Williams. "People would say, `It'll never work because Black dramas don't make money'" she says, "but when it hit the air, we proved all of that wrong."
Now entering its fourth season (beginning in April) on Showtime, Soul Food is dutifully serving its fourth helping of crow for the disbelievers to eat.
The scope of the show's success is evidenced on any given Wednesday night, when the most loyal of its fans are connecting to their onscreen extended family in various creative and vicarious ways.
"I recently had a man tell me that he was not allowed to take phone calls on Wednesday nights because his wife said that 10 o'clock is their time together to watch Soul Food," recalls executive producer Felicia D. Henderson. "I think that's why the show's a success ... people recognize their own relationships when they watch."
Diehard rims throw private Soul Food viewing parties, complete with homemade versions of the signature soul food dishes as provided by the series' official Web site. And it goes without saying flint all across the country there's a wave of Black beauties, young and old, styling their clothes and hair after the trendy Joseph sisters.
But women aren't the only ones caught up in the rapture of Soul Food; male fans are also getting a little inspiration from superhunks Kenny, Lem and Damon. These onscreen Brothers are encouraging Black men to be a little more romantic, a little more upfront, a little more hardworking, and to be a little more sexy, thanks to their heavenly, ripped bodies.
Sex appeal aside, the secret to the series' success may also be the fact that it's a predominantly Black-run production, developed by Henderson, with Black executive producers--Tracey E. Edmonds, Kenneth (Babyface) Edmonds, George Tillman Jr. and Robert Teitel--Black writers, and Black directors, all at the helm making major decisions. "We are allowed to tell our truths because there are other [Black] people in the decision-making moms," says Vanessa (Maxine) Williams, "and they know that this is their truth, too. Our success speaks to Showtime's willingness to be daring, and to specialize the market to this community, and then to the larger community flint wants to see this kind of quality programming."
Kodjoe says that he's proud to be a part of the Soul Food series, because the show consistently rejects negative typecasting like three-week-old leftovers.
"I think it's an incredible chance and opportunity to inspire others to stretch the envelope when it comes to producing and developing TV shows and films with diverse cultural storylines and casts," he says.
The actors insist that the entire cast has grown close, and function like one big happy Black family. There are no demanding divas, stuck-up sex symbols or titillating, tabloid-worthy blow-ups on the set.
Malinda and Vanessa Williams (no relation) are currently penning screenplays. Vanessa Williams is also serving an unprecedented second term as the celebrity spokesperson for the March of Dimes. Kodjoe and Parker most recently appeared together in the hit film Brown Sugar.
Henson, who portrays Lem, is a recipient of the coveted MTV Music Award for his work in N'Sync's Bye Bye Bye video.
Dunbar is putting the finishing touches on a pilot script fin' a television dramatic series, has an upcoming clothing line Rabnud (Dunbar spelled backwards) and is currently completing his book of poetry and abstract drawings.
Meeks portrays the adolescent Ahmad, who desperately wants a steady girlfriend and a decent allowance. But in reality, he is a mature 16-year-old high school student who is honing his rap skills.
It's quite evident flint America's appetite for Soul Food has yet to be satiated, and fans should prepare tin' an exciting and unpredictable new season, And the cast says you haven't seen anything yet.
"I cannot believe some of the, things we will be doing this season," says Malinda Williams. "I cannot believe what my character is doing; I mean, wow! You'll be surprised, I know I am."