Servicing THE FOOD SERVICE INDUSTRY - Brief Article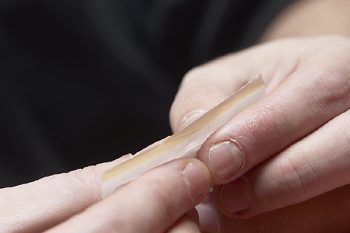 Byline: Mike Werling
When Colonel Hogan needed to meet with a German spy at the pub in town, he didn't settle for simply adopting a fake German accent; he had LeBeau make him a German officer's uniform. And with that uniform on, Hogan usually got more respect from the Germans than Colonel Klink - and he really was a German. Uniforms get the wearer recognition, respect and trust, and in whatever setting they are worn, uniforms make everyone part of the same team.
Many promotional products distributors, however, have taken the part of Sgt. Schultz when it comes to uniforms: "I know nothing."
Not everyone has to wear the exact same uniform to be a part of the team, of course, and that is especially true when it comes to restaurants. The host or hostess doesn't need to wear the same uniform as the servers or bartenders or kitchen staff. Every unit of the team can wear a distinct uniform and still come out looking like everyone belongs in the same place. How to do that is up to the enterprising salesperson with the proper contacts in the restaurant trade.
Huge potential
Eight percent may not seem like a huge amount. But when we're talking about eight percent of the total workforce in the United States, the number suddenly looks more appealing. That's how many working adults are employed by the restaurant industry: eight percent, or 11.6 million workers, according to the National Restaurant Association. There are approximately 850,000 restaurants employing all of those folks. And with more and more restaurants opting for the uniform route, there are many stops along that road before everyone is outfitted how they want to be.
Restaurants are projected to have 2002 sales totaling $408 billion, up 4 percent from 2001 and accounting for 4 percent of the gross domestic product. The National Restaurant Association also says that sales are now above pre-Sept. 11 numbers after a slight decline following the attacks. The restaurant industry is huge business, and considering the number of people working for it that need uniforms, the potential for promotional products distributors is limitless.
"In any kind of retail situation, you sell an image," says Melissa Anderson, product manager for Woodstock, Ga.-based Fame Fabrics. And isn't selling an image what promotional products are all about?
Best face forward
With the marketplace so full of choices, 850,000 of them, for hungry consumers making sure customers come through the doors and come back for repeat visits isn't just about good food. The entire ambience of the restaurant contributes to the dining experience, and if a diner doesn't have a good overall experience he probably won't come back.
The food servers are the people restaurant patrons are going to remember. Above anyone else in the restaurant, the person responsible for taking the order, bringing out the food, checking to see if everything is OK and collecting the check will be remembered - and he'll be remembered fondly if he acts and looks professional.
"The staff is the face of your company," says Lawrence Schleif, president of Anthony Enterprises, Valley Center, Calif., which makes the Flavor Wear line. "They are the ones interacting with the customers. Their look and image is what people are going to remember. Good uniforms enhance [employees'] self-esteem and leave a good feeling with the customer. That promotes a repeat customer."
Janice Henry, vice president of design for Seminole, Fla.-based Superior Uniform Group agrees that the servers are going to make the biggest impression. "We recommend that they start with the wait staff, establish the look with the servers," she says. "That's where you make an impact as far as image is concerned. The hosts and hostesses fall in after that." Henry adds that the people in the back are usually handled separately, though they can still coordinate with the rest of the restaurant.
"Many restaurants try to differentiate what the host would wear from the rest of the staff," says Phil Cook, vice president of sales for Lincolnwood, Ill.-based Hilton Corporate Casuals. "Maybe with a different color or a woven, where the rest are wearing a knit-type shirt."
The same, but different
One of the most popular ways to outfit the wait staff currently in casual dining establishments is to put the servers in a placket shirt. Plackets are versatile, comfortable and can come in any number of fabrics and blends. Hilton's Cook says a 60/40 cotton/poly blend pique knit is his company's most popular style for restaurants right now because it is inexpensive, holds embroidery well and comes with sewn eyelets, a more durable means of attaching name tags.
Another increasingly popular direction for restaurants to go is to camp shirts. The silhouette can be as festive or conservative as is needed for each situation and they can be manufactured in a number of fabric blends. Anthony Enterprises' Flavor Wear division has 33 stock patterns for its domestic polyester camp shirts, and those patterns can be incorporated into headwear, neckwear, aprons and vests to coordinate throughout the establishment.
Scorpio Apparel, Chicago, Edwards Garment Co., Kalamazoo, Mich. and Hilton also offer a selection of camp shirts to outfit whichever unit of the restaurant is going to wear that style. Aprons, from the traditional three-pocket waist style to the longer, more formal bistro style, can be added to a uniform in a color that coordinates with the camp shirt, complementing and finishing the look.
Hosts and hostesses can be outfitted in an ensemble as simple as a jacquard knit shirt in a complementing color or print. Or, they can wear a white oxford shirt with a tie or scarf that coordinates.
"Even in a more formal setting where they may be wearing black slacks and a white shirt," Schleif says, "you can brand it with custom neckwear."
In the more formal settings, where tuxedo shirts or cummerbunds or vests are needed, suppliers have everyone covered, offering the more formal wear in traditional black and white or in prints and other solid colors.
Chefs needn't be left out of the equation when it comes to coordinating the entire staff. Manufacturers have made a point out of creating chef wear in as many colors and prints as there are tastes. Fame Fabrics stocks 24 colors and 11 prints, Flavor Wear can put any of its patterns on its chef wear, Scorpio's chef's pants come in the company's solids and prints and Aprons Etc., Mauldin, S.C., has chef wear to fill out an order.
Pushing the "same, but different" way of outfitting a staff around a theme can lead to introducing a buyer to something he or she hadn't thought about before and to a program that could lead to repeat orders for years. Pointing out that the Hard Rock Cafes, the Outbacks, the Chilis and Applebees of the world, just to name a few, are doing just that can't hurt.
Thematic schematic
Even a restaurant owner who doesn't think she has a theme probably does. If a certain color is used throughout the restaurant, that could be the theme. Sell the owner on taking a color and creating an entire uniform program around it: Perhaps plackets for the servers, camp shirts for the bartenders, a nice woven for the hostess and matching garb for the kitchen help and chefs.
Everybody follows one particular color scheme," Fame Fabrics' Anderson says. Meaning that everybody with a restaurant can have a theme, or at the very least a coordinated look.
Color isn't the only way to create a theme, as witnessed by the Hard Rock Cafe and others. Creating the feel of a Parisian or Florentine street is another way. The Boiler Room in the Colorado Belle Casino in Laughlin, Nev., created a riverboat feel to complement the style of the casino it is attached to. The imaginative distributor can come up with any number of ideas given a particular restaurant setting. The key is selling the entire package.
Custom printed shirts are another option. Suppliers such as KTP Design Co. in New York City offer custom printed camp shirts or knit shirts for minimums as low as 200 pieces.
"For example, for a famous bar, we'll take their logo, along with images of their signature drinks, and create a fun, bold custom shirt just for them," says KTP President Patrick Walsh. "The client is almost always blown away by this concept. For so long, the client's only options were solid shirts with embroidery, or in-stock prints."
KTP's camp shirts are available in 100% cotton, 100% rayon, and a 65% polyester/35% cotton blend. The knit shirt is available in 100% cotton, with a choice of either jersey or pique knit fabric.
Uniforms, especially when given or offered at a discount to employees, pay off in improved attitude and performance since human beings tend to act how they look and feel. Uniforms also, for whatever subconscious reason, put customers at ease, relaying to them an attitude of "I'm going to take great care of you" from the employee.