How I became my own lover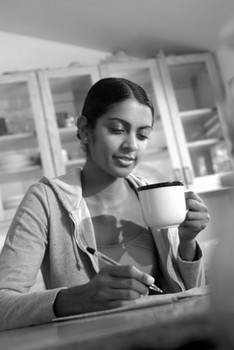 Last year, when my 11-year relationship ended and I found myself single again, I knew I didn't have the heart to jump back into a serious relationship. Not caring about my appearance, I spent whole days in my apartment in my pajamas. When I did go out to replenish my food supply, I threw on whatever looked clean, usually a T-shirt and sweatpants. I was sinking and I knew it, but couldn't seem to pull myself out of the depths.
I had the sense to call on friends who reminded me to breathe and told me that yes, it was hard, but I would most definitely get through it. "Just be in the present moment," one wise friend told me. "Appreciate the things you have right now: shelter, food and clothing. The rest will come." I knew what he said made sense, but I still wondered if anyone would ever love me again. And in that moment, I asked myself, why would they? I certainly wasn't being loving toward myself. Right then, I decided to become my own lover. I figured that i had a better chance of healing my broken heart and rebuilding my self-confidence if I could learn to love myself a little better.
I began to wine and dine myself. After too many breakfasts of black coffee and glazed donuts and too many dinners of potato chips and a glass of wine in front of the television, I looked at myself in the mirror and was horrified. I had lost weight, felt constantly bloated and listless, and had dark circles under my eyes. i decided that instead of waiting for someone to enjoy my cooking with me, I would concoct gourmet meals for myself. I watched TV cooking shows and attempted to re-create the dishes that made my mouth water. As I challenged myself to prepare healthy but sumptuous meals, cooking became a kind of meditation, clearing my mind of self-doubt about my attractiveness to a new partner. It was soothing to chop exotic vegetables and experiment with unusual spices and color combinations. Afterward I ate at the dining-room table using the good glasses and cloth napkins, with the television off and soothing music on the CD player, I would make myself pay loving attention to each moment, appreciating the music, the food, the view of the ocean outside my window, and my growing skill in the kitchen.
I started an exercise program with a friend who was visiting, going outside even when I didn't feel like it. Every morning we would walk for 30 minutes along the boardwalk near my house; before my friend discovered it, I hadn't even realized it existed. After my friend left, I continued to walk alone. Somehow the world began to look different. The sky looked bigger, the water bluer. I listened to the seagulls and enjoyed the swooping grace of their flight.
I began to seek out other pleasures. I shared an elegant lunch with my friend Holly, and afterward we explored a fancy candy store, where I filled a small rainbow-striped bucket with chocolate kisses, saltwater taffy and penny candy from my childhood. When I confessed to Holly the lack of confidence I'd been feeling, she recommended I call up her stylist. She knew that inside me there was a glamour girl--over the years I had purchased clothes for her to wear to events I had hoped to be invited to: a black lace dress, pink velvet dancing shoes, a red hat, a fitted orange silk jacket. Now, with Holly's encouragement, I resolved to wear those outfits just because 1 wanted to, whether or not there was an event to attend.
I also made an appointment with the stylist, who showed me how to choose garments that would enhance the new personality I was consciously choosing to embrace: successful artist, fund-raising board member and serenely single woman. I even cut my six years worth of shoulder-length locks. One of my neighbors, unable to contain her surprise at my new look, blurted out, "You look so sophisticated, and honey, you took ten years younger." I felt good.
I decided to create a new setting for myself. In my apartment, where I had spent several years building a life with my partner, I rearranged the furniture and painted the walls vibrant new colors: terra-cotta, golden-yellow and deep merlot. I burned incense to cleanse the space of old energy, and I put all the souvenirs and memories of 11 years of travel and adventure into a box, which I stored in the closet. It was like the reveal moment on Trading Spaces and What Not to Wear when I invited friends to my new home and greeted them wearing my new clothes. Their eyes were wide; they wondered if they were in the same apartment, if J was the same woman.
On my birthday, I sent myself flowers: calla lilies, red ginger, yellow freesia and red-orange roses. I bought myself a present and had the cashier gift wrap it, a reminder that I was loved even if not a single person remembered my birthday--though several did. A few days later I booked a hotel room and happily spent a night alone. I went to the theater and to dinner, feasting on a variety of delicious small dishes at a Spanish restaurant. Back in my room, I took a bubble bath, then slid between crisp white sheets. Before sinking into dreams, I gave thanks for another birthday, another opportunity to be reborn.
I realized that for years I had been depending on others to keep me company. I had waited for my partner or my friends to find time in their busy schedules to go out with me. When I started taking myself out to lunch in new restaurants, to the opera, to movies others might find too quirky, to art exhibits and cooking demonstrations, every day became an adventure.
By taking the time to become my own lover, to treat myself with all the care and tenderness we all wish for, I have grown to know myself in a deeper way, and I like the me I've found. After months of romancing myself, growing comfortable in my own company, even sometimes preferring it, I know that I am truly ready to love again. I have made room in my life not for someone to complete me, but for someone who will complement the rich life I already enjoy.
Shay Youngblood is a novelist, playwright and artist who lives in New York. Her most recent novels are Soul Kiss and Black Girl in Paris.