Grab that ghost! Mix a spooky safari with frightfully good food and your young ghost-hunters will be screaming for mores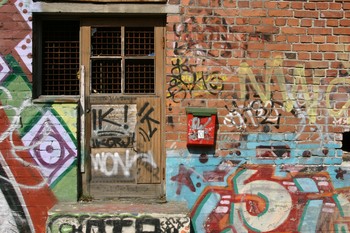 Not so long ago, the kids were beyond thrilled to wear their favorite Care Bear or Power Ranger costume. Now, in an era where ghost-hunters rule, your not-so-little Scooby Doo wanna-bes still want an absolutely awesome Halloween party, but on their terms. The idea of Dad dressing up in a sheet and scaring the kids is so five minutes ago. Forget being spooked! The ghostbusting heroes of today's cartoons and movies am always putting the on the ghoulish bad guys, teaching our kids that they too can face their fears, real and imagined. At this ghost-party, kids get plenty of chances to chase the ghosts, while parents get ideas for frightfully good costumes, food and more.

SET THE SCENE. Imagine that for one night your home will be shaken to the rafters by an unruly mob of ectoplasmic orbs floating through the house like they own it. Your children will invite the gang over to neutralize the nocturnal intruders, but what on earth with?

Before the gang can save the day, do a little brainstorming with your kids to figure out what ghost-hunters need to wear. What tools are necessary to capture and confine the ghosts? What type of food will exorcise the growling entities that will take over everyone's tummies during a hard night of ghoul-grabbing? Allow your your imaginations to fill in the blanks.

DECIDE WHAT TO WEAR. The simplicity of these costumes will have moms everywhere breathing a sigh of relief. For ghost-hunters to capture their prey quickly and quietly, all they need to wear are dark T-shirts, sweatshirts or sweaters, and pants, soft-soled shoes, and an assortment of ghost-detecting tools.

TRICKS OF THE TRADE. Turning fun and inexpensive props into a ghost-hunter's party is easy to do. Balloons make wonderful ghosts however you decorate them. Draw a goblin face on a white balloon with a black magic marker, use neon color markers on black balloons, or use glitter glue sticks in wild colors for supernatural faces. Top helium-filled balloons with tulle drilled with red glitter glue for a blood-curdling ghoulish effect.

Of course, ghost hunters need tools to catch their prey. Butterfly nets easily slip over small ghosts; and a Halloween staple, the skeleton-hand grabber, works beautifully to snag ghosts by their strings (tails). Nets and grabbers are available in toy shops and dollar stores.(see "Party Favors," page 152). Also, kite string or orange rope makes an effective lasso. Once the ghosts are roped, grabbed, or snatched, stow them in the spooky jail. (see "Only Ghosts Allowed" page 154).

It's easy to pretend that a handheld flashlight is a ghost-hunter's stunner. Shine the light on the ghost to "stun" it while a partner snags it with the net. Clipping a book light to a headband or cap is a great back-up in case flashlight batteries mysteriously go dead. These hands-free lights also keep excited hunters sure-footed in darkened rooms.

Record ghost conquests with a flash camera, or try this trick with your Polaroid. Take a shot of your partner, then use a key or toothpick to scribble on the photo before it's fully developed. As picture finishes developing, the scribbles will cause spooky lines and marks to appear too. With practice you can make eerie images that guests cherish as mementos of their night of fun and fright.

A HAUNTING WE WILL GO

Armed and ready for a ghost hunt, ghoul-grabbing tools include a net, a spool of rope (an effective lasso to corral flighty goblins), and a disposable flash camera (for evidence!) Hide ghost balloons around the house and dim the lights. Set some ground rules (no running unless you want to end up in the dungeon), then let the kids loose. Have them work in pairs: one "stuns" the ghoulie with a camera flash or flashlight, while the other nets the specter. Remember that ghosts often protect treasure, so hide treats nearby for alert hunters to find and stow in their satchels.

[ILLUSTRATION OMITTED]

WHAT YA GONNA WEAR? Forget the stuffy X-Files suit and tie. Our investigators prefer comfortable clothing-aT-shirt, jeans, soft-soled shoes to sneak up on prey, and a baseball cap topped with a ghost detector. Got your flashlight? Check. Night vision goggles? Check. Is that a ghost looming behind you? Check!

[ILLUSTRATION OMITTED]

A BOO-TIFUL INVITE. Set the party theme with hand-made invitations like this one for our ghost-hunter's party. Or try something different--a witch's broom or a glittering tombstone to hang on the door with a neon glo-lite necklace. For our Boo! ghost template, visit www.bhg.com/boo

[ILLUSTRATION OMITTED]

NAME THAT GHOST You want to find the scariest ghost in the bunch, but how? On separate tags, write goofy ghost names: Friendly Flo, Sad Seymour, Happy Horace, Scary Mary, Mean Irene, and so on. Attach the tag to each "tail". After all the ghosts have been captured, check the names. Whoever caught Scary Mary gets to take home a special prize, and the ghost itself, of course.

[ILLUSTRATION OMITTED]

PARTY FAVORS Each ghost-hunter takes home a nocturnal nab-and-snare device (better known as a butterfly net), one skeleton-claw ghost-grabber, plus a goody bag and balloons. To complete the spooky atmosphere, drape icky handfuls of fake cobwebs among the party gifts.

[ILLUSTRATION OMITTED]

ONLY GHOSTS ALLOWED Where to put all those captured ghouls? For an awesome jail, gather yards of mosquito netting or tulle, tie at the top with string, and hang from the ceiling, left. Escapees who emerge from the opening at the bottom are simply snatched up by fast-acting ghost-hunters and returned. Attach an army of crawly fake spiders with a dab of glue for a chilling effect.

[ILLUSTRATION OMITTED]

EASY ILLUSIONS Creating a gaggle of ghosts from a bunch of balloons is a breeze. We use mylar and latex in different sizes. The eyes and mouth are made from construction paper and glued to the surface. Make them more boo-worthy with yards of sheer fabric draped loosely over the ghostly noggin.

[ILLUSTRATION OMITTED]

FRIGHT SANDWICH Satisfy hungry hunters with our cookie cutter ghosts made from white bread. Any filling will do, from cheese to bologna, but we chose peanut butter, adding an oozing dose of blackberry jam and two raisins for eyes. Or, to warm your ghost-chilled throng, serve a French toast feast! Sprinkle toast ghosts with an eerie trail of powdered sugar.

To order our custom-designed ghost cutter, see page 244.

[ILLUSTRATION OMITTED]

CREEPY-CRAWLY CUTIES When it comes to treats, these fruit filled desserts do the trick. In a clear glass, alternate layers of ice cream, pudding, or milk shake with fruit-flavored syrup. For the near sighted gentleman, above left, freeze a mini chocolate cake roll, slice in half, and attach red cinnamon candies for eyes with a little icing. As for the mean green spider, gummy candy rounds are cut in half and placed along the rim for the legs; soft fruit candy forms the body. Dabs of decorative gel create two piercing eyes. Top off with whipped cream.

[ILLUSTRATION OMITTED]

BOO BRIGADE To make these cupcake critters, top homemade or purchased cupcakes with stacks of meringue from the grocery store. To add personality, apply dots of chocolate icing from a tube. Or, pipe on the icing with a pastry bag and a #1 round pastry tip.

[ILLUSTRATION OMITTED]

TAKE ME HOME Kids will adarethese hand-decorated velum goody bags, left, filled with green gummy worms, orange and black jelly beans, candy corn, and powdery cheese popcorn. Whether you fill the bags to the brim or leave room for more treats, you'll want to be able to close them to prevent spills. To close the top, we laced long ribbons of black licorice through two holes and then tied them in a bow. Googly eyes are attached with a glue stick.